Remanufacture: The 4th R
Reduce, Reuse and Recycle - The three R's are a baseline for any business working toward improving the environment. Canadian Cartridge Services Inc. introduces the 4th R – REMANUFACTURE.
Quality and Service
At Canadian Cartridges Services Inc, we provide immaculate quality and unmatched service to all our clients. Canadian Cartridge Services has over 20 years of experience with new and recycled toner cartridges for:
Laser printers
Inkjets
Printer ribbons
Copiers
Fax machines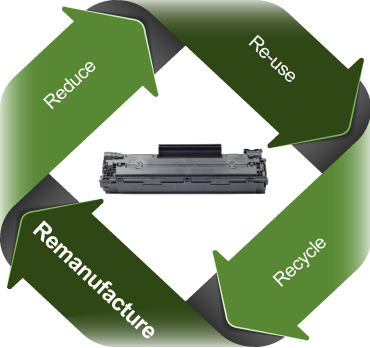 Customer Service at its Best
We believe high quality and outstanding customer service is more important than quantity and price. We will help you save your money and resources and also all the while helping to protect the environment in the bigger picture.
Make the most sensible choice for Your Business and the Environment!
Learn More
Contact Us
Canadian Cartridge Services Inc.
30 Watt Street, Winnipeg, Manitoba, R2L 1R6
canadiancartridge@shaw.ca
Business Hours: 8am - 5pm / Mon - Fri
Phone: 204.663.7712
Toll Free: 877.663.7717
Fax: 204.663.7723
See Map